Volunteering at the Romsey Show is a great way to meet up with friends, make new ones and enjoy the show atmosphere. The Society thanks all of the volunteers who dedicate their time on the showground, without whom the show would not be possible. Many of our volunteers return year after year, and are a great source of support for newcomers!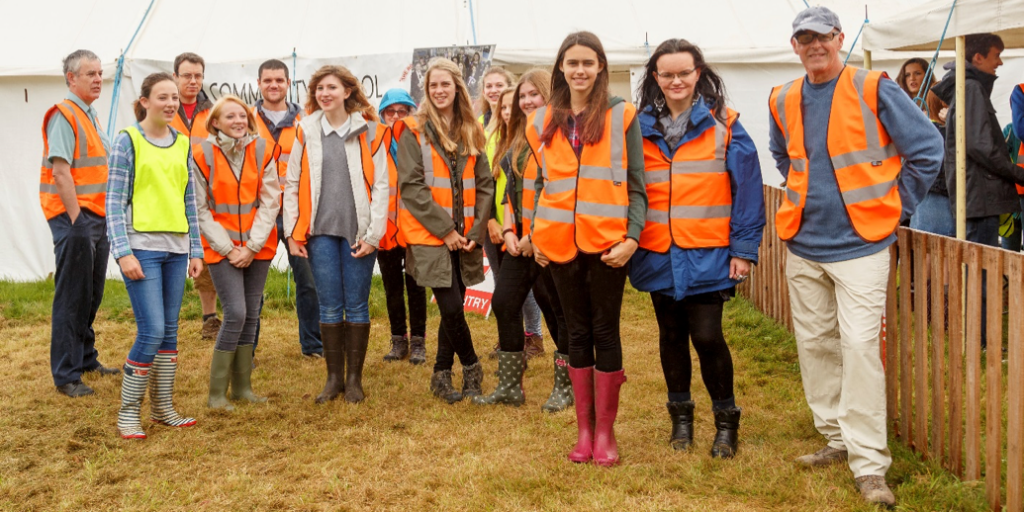 The show welcomes volunteers are of all ages, from the local community and beyond. The list of voluntary roles available is endless and ranges from general to more specific tasks. Some of the key volunteering opportunities include:
Set-up/take down
Assisting with the pre-show day arrangements to put the show in place. Tasks include assisting with pegging out spaces, signage, erecting livestock pens, rings and fencing etc.
Stewarding
Required across the whole showground, from welcoming visitors as part of Traffic and Gates to stewarding livestock and horse classes. Other sections that would welcome some support include trader/exhibitor areas, Food Zone, Entertainments (Main Ring and Countryside), Members' Enclosure and the Secretary's Tent.
Trade Stand Stewards
Required to assist the Chief Steward with pegging out and numbering outside and inside trade stands. The role also includes directing traders to their pitches on the Friday night and show morning. We appreciate any time volunteers doing this role are able to offer.
[/one_half_last]
---
We would love to have your support…
We ask all show day volunteers to commit to at least 4-hours (dependent on the task) and in return we will provide appropriate training and support, a Steward's Badge (providing access to the showground for the whole day) and refreshments.
If you are interested in a voluntary role and would like more information, we would be delighted to hear from you and all your friends! Contact us at the Show Office via info@romseyshow.co.uk or social media.
COUNTDOWN TO 9th SEP 2023