Floral Arrangement Competitions
Romsey Flower Club organises the Floral Art Competitions at the Show. Entries are open to everyone, not just members of the NAFAS.
We will put an entry form here when entries open for 2024.  
Trophies presented are The Roche Court Trophy and The Locke & Smailes Candleabra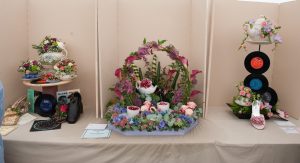 The Art Show
The Art Show within our Art Tent is run by Romsey Art Group. For more information, please visit their website here >>.
More details can be obtained from Mr Richard Paul (please contact the Show Office for details)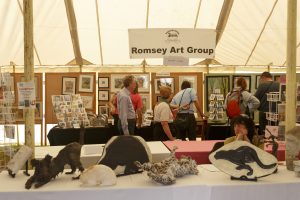 Trade Horticulture Competitions
Anyone applying for a Trade Horticulture space at the show will automatically be entered into the Trade Horticulture Competition on show day:
The Lawrence Hauser Perpetual Challenge Trophy – For the best exhibit (1st Place)
Judge: Chris Arnold and the Society President. 
Trade Stands Competitions
Judges will view all trade stands at the Show, awarding the following:
Class 271 – The Beale Cup – For the most attractive & well laid out trade stand, with a frontage of over 9 metres
Class 272 – The Harris Cup – For the most attractive & well laid out trade stand, with a frontage of 9 metres & under
Class 273 – The Renault Cup – For the most attractive & well laid out trade stand of any size, belonging to a charity
Class 238 – The Rural Industries Plaque – For the most attractive & well laid out Rural Industries Stand (Shopping & Craft marquee)
Class 239 – The Shopping Cup – For the most attractive & well laid out Shopping Stand (Shopping & Craft marquee)
For more information and to apply for a Trade Stand, click here >> 
COUNTDOWN TO 9th SEP 2023