Floral Arrangement Competitions
Romsey Flower Club organises the Floral Art Competitions at the Show. Entries are open to everyone, not just members of the NAFAS.
2022 Entries are open now – to download a schedule for details on the classes, click here>>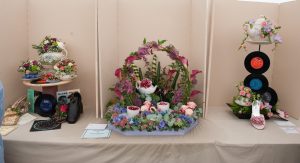 The Art Show
The Art Show within our Art Tent is run by Romsey Art Group. For more information, please visit their website here >>.
More details can be obtained from Mr Richard Paul (please contact the Show Office for details)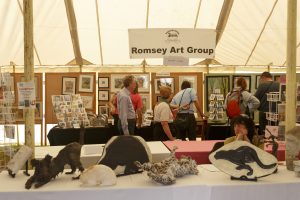 Trade Horticulture Competitions
Anyone applying for a Trade Horticulture space at the show will automatically be entered into the Trade Horticulture Competition on show day:
The Lawrence Hauser Perpetual Challenge Trophy – For the best exhibit (1st Place)
Judge: Chris Arnold and the Society President. 
Trade Stands Competitions
Trade competitions will not be taking place at the 2021 Show as cups are not being issued this year.
Class 271 – The Beale Cup – For the most attractive & well laid out trade stand, with a frontage of over 9 metres
Class 272 – The Harris Cup – For the most attractive & well laid out trade stand, with a frontage of 9 metres & under
Class 273 – The Renault Cup – For the most attractive & well laid out trade stand of any size, belonging to a charity
Class 238 – The Rural Industries Plaque – For the most attractive & well laid out Rural Industries Stand (Shopping & Craft marquee)
Class 239 – The Shopping Cup – For the most attractive & well laid out Shopping Stand (Shopping & Craft marquee)
For more information and to apply for a Trade Stand, click here >> 
COUNTDOWN TO 10th SEP 2022