Thank you to all our traders who supported & attended the 2016 show.
We hope you enjoyed the day. Click here for the trade stand class winners!

Applications for traders will be available to download from MARCH/APRIL 2017
The Romsey Show welcomes over 500 trade exhibitors each year, selling and promoting a range of goods and services from clothing and crafts, to cars, charities, venues and houses.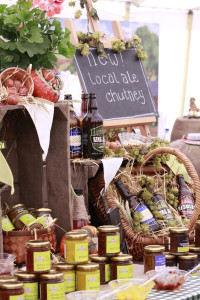 The show attracts 24,000+ visitors on show day of all ages from across the south, west and beyond.
Whilst we are pleased to see many of our trade exhibitors returning year after year, there is always room for more!
We offer a variety of pitches, both inside dedicated marquees and/or outside (provide your own gazebo, marquee, van, etc).
Outside pitches are available in multiples of 3m frontages and 6 or 12m depths. Corner and end-of-row pitches are also available for a small premium. Exhibitors booking an outdoor pitch are expected to bring their own equipment and shelter, which must fit inside the size of pitch booked.
Inside pitches (Food Zone, Shopping and Rural Industries (principally hand- and home-made items)), are available in multiples of 3m frontages and 2.4m depths. Corner pitches are also available for a small premium.
We do not guarantee specific pitch locations, but do our best to accommodate exhibitors' requests where possible.
All pitches are allocated on a first- come-first-served basis. 'Plotting' usually takes place after applications close (July onwards)
Pitch prices vary depending on size and location (inside, outside, middle of row, corner/end of row).
Trade Applications for the 2017 Show will be available to download March/April 2017

Book and Pay in full before 30th May 2017 and receive the EARLY BIRD DISCOUNT.
If you have any queries or would like to be added to our trade stand application mail list, please contact the show office: info@romseyshow.co.uk..
COUNTDOWN TO 9th SEPT 2017