Trade Stands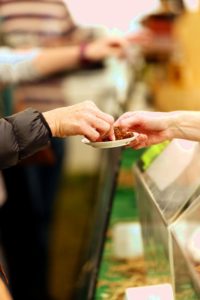 Food Zone Application Forms will be available to download from March/April 2017.
Our dedicated Food Zone, highlights local and/or artisan produce, producers and products. There are around 90 exhibitors, a number growing year on year, each providing exceptional food and drink to suit every palate. With a large picnic area, including bandstand, there is plenty of room for our 24,000+ visitors to enjoy your produce.
Whilst many of our food exhibitors return to the show each year, we are always looking for new products and producers and encourage applications from exhibitors offering high quality food and drink with good provenance and often locally produced. We are equally delighted to consider applications from new and existing exhibitors whether offering traditional fare or new experiences.
We advise all food exhibitors to read the Rules and Regulations carefully, particularly in relation to the produce you wish to sell and where applicable, concession charges. If you have any queries please contact the show office: info@romseyshow.co.uk.
All previous Food Zone exhibitors (who have attended the show in the last 3 years) will be automatically posted an application pack as soon as they are available from the office.
Electricity is available to exhibitors inside a marquee or immediately outside it – please indicate your requirements on the application form. Please also refer to the Rules and Regulations with regards to providing your own generator(s) and their safe operation.
Public Bar & Catering Concessions: If you are interested in a public catering concession for the 2017 show, please contact the show office via email info@romseyshow.co.uk with your details.
Ice Cream Concession: We are delighted to have Purbeck Ice Cream back again this year, providing ice cream across the show ground. 
All exhibitors are given:
Access to the show ground from 1pm Wednesday prior to the show
An allocated number of vehicle passes and admission tickets
(depending on pitch size)
Additional tickets at a specially discounted rate
A listing in our show guide
Coverage on social media
Support from the Show Office and stewards on show day
A great show that put us in direct contact with our customer base
Great demonstration theatre and featuring local chefs and producers
What a wonderful selection of local, lovingly produced food and drink – a foodies paradise
Kids Kitchen is great idea and so well supported by everyone
COUNTDOWN TO 9th SEPT 2017